Stephanie Halm gained points in Most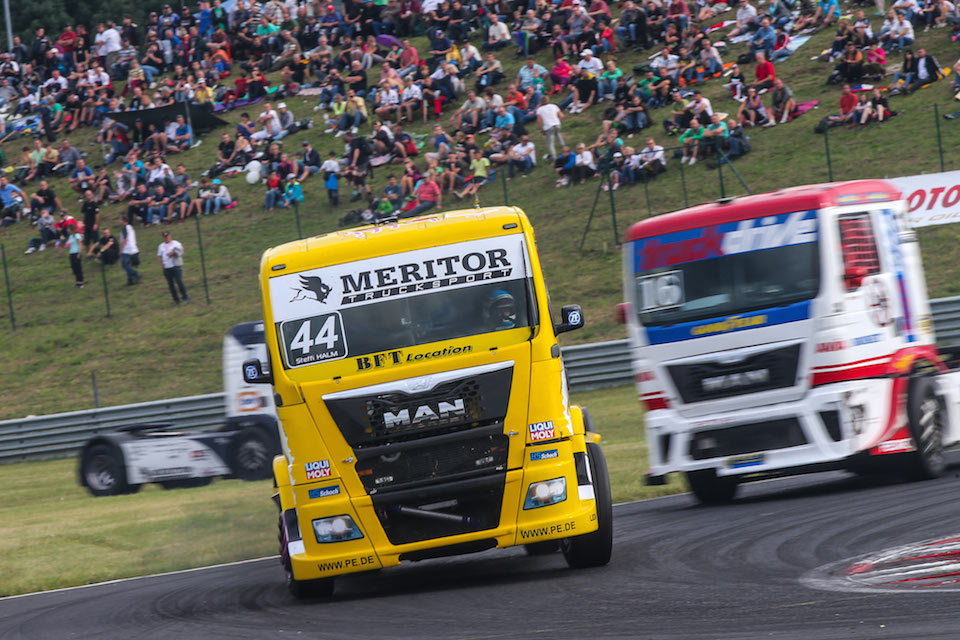 The 6th event of the FIA European Truck Racing Championship was satisfactory for the Lion Truck Racing team and its two pilots Steffi Halm and
 Jean-Pierre Blaise – despite challenging conditions!
The usual course of the race was heavily altered by very rainy conditions severely affecting and heavily challenging all of the teams participating at the event in Most. Jean-Pierre, however, made good use of his strength – performing great even under bad weather conditions – and thus achieved great results as he ranked 11th twice and once even 9th, consequently earning his first FIA points. In addition, he won the
T RO Challenge!
Steffi's results are not that great, but she still managed to earn additional points
by classifying amongst the top ten.
She got her toughest setback already at the first race on Saturday – which actually had to be started three times. At a "chain of accidents" at the first chicane, she crashed into another truck at full tilt and strained her wrist.
Unfortunately, neither she nor her MAN race truck was able to continue the race.
By the time the second race started, Steffi's truck had already been repaired and was ready to participate – although the young German pilot had to start this race from the back of the grid. Under these circumstances, she showed a great performance passing eight competitors – one after another – and was very pleased as she crossed the finish line ranking 12th. On Sunday morning, the red flag was shown already at the qualifying after some trucks came off the track. The conditions improved later on, but considering the remaining time and the stirred-up field, it wasn't easy to achieve fast lap times.
Because of a misunderstanding, Steffi was disqualified afterwards and had to start the third race from the back of the field again. And yet the Lion pilots both managed to rank among the top 15. At the last race, both of the Lion fighters were highly motivated once again. In the end, Steffi managed to finish in the points ranking tenth and thus stealing the position from her teammate on position 11 who was already very confident about earning points again.
At Lion's VIP trailer, guests of the partner Meritor were received, catered for and entertained during the race weekend while the Lion body-painting models were a major sensation at the paddock. Before heading to the next racing event in the Belgian town of Zolder, the presentation of Steffi's race truck at the Automechanika fair in Frankfurt will surely be equally spectacular.

back

Scroll to top